Urdu & Persian
Urdu is an Indo-Aryan language originating in the region between the Ganges and Jamuna rivers near Delhi. As a spoken language Urdu originally derived from Hindustani,the lingua franca of Northern India before the partition of 1947. Although Urdu and Hindi arose from the same or very similar colloquial bases, their literary forms are much different because of the strong influences of Sanskrit on Hindi and of Persian and Arabic on Urdu. Grammar in the two languages is still nearly the same, however, except in instances in which literary Urdu adopts Persian or Arabic constructions.
Urdu is a very important language of Indian subcontinent both for the reasons of large number of its speakers as well as its rich literature.
Information about Location (Lucknow)
Lucknow is the capital city of the state of Uttar Pradesh, India. Lucknow's history begins with its elevation to a capital city under the Nawabs of Awadh. The architectural contributions of the Awadh rulers, many paintings of whom are maintained at the Art Gallery today, include numerous mosques and palaces. Of the monuments standing today, the BaRa ImaambaaRa, the Chhota ImaambaaRa, and the Roomi Darwaaza are notable examples.
The province of Awadh (anglicized to Oudh) was annexed by the British rulers of India, and in the Indian Mutiny of 1857, Lucknow was one of the cities besieged by the rebel forces. Today, the ruins of the Residency, and the picturesque Shaheed Smarak offer the poignant reminisces of Lucknow's role in the Mutiny. Other architectural delights in Lucknow include the Vidhan Sabha (State Legislature) and the railway station at Charbaagh with its yellow domes and pillars. One of the oldest schools in the world is also situated in Lucknow: La Martiniere, founded in the 1845 by Claude Martin.
TENTATIVE CLASS SCHEDULE (AIIS) Urdu Language Program Lucknow
ADVANCED
INTERMEDIATE
NOVICE
Day
7:30pm –8:30pm (IST)
(60 minutes)
8:40pm-9:40pm (IST)
(60 minutes)
9:50pm-10:50pm (IST)
(60 minutes)
7:30pm –8:30pm (IST)
(60 minutes)
8:40pm-9:40pm (IST)
(60 minutes)
9:50pm-10:50pm(IST)
(60 minutes)
7:30pm –8:30pm (IST)
(60 minutes)
8:40pm-9:40pm (IST)
(60 minutes)
9:50pm-10:50pm(IST)
(60 minutes)
Monday
Vocabulary
Literature Prose
Test Review/ Error Correction
Vocabulary
Literature Prose
Test Review
Vocabulary
Grammar
Test Review
Tuesday
Grammar/ Classical Literature
Oral Presentation
Literature Poetry
Grammar
Oral Presentation
Error Correction
Literature Prose
Oral Presentation
Error Correction
Wednesday
Weekly Guest
Magazine Reading
Listening Video
Weekly Guest
Magazine
Listening Video
Grammar Drill
Literature Poetry
Listening Video
Thursday
Literary Reading Prose & Poetry
Listening Audio
Magazine Newspaper
Grammar Drill
Listening Audio
Sight Reading & Dictation
Magazine Reading
Conversation
Sight Reading & Dictation
Friday
Newspaper
Idioms & Phrases
Conversation
News Paper
Literature Poetry
Conversation
Newspaper
Listening Audio
Oral Presentation
*Those who opted 72 hours lesson please chooses your classes and stay with the same schedule.
Dinner with Host family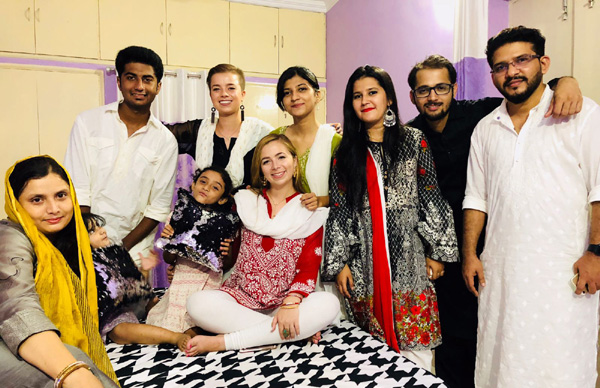 Enjoying with Host family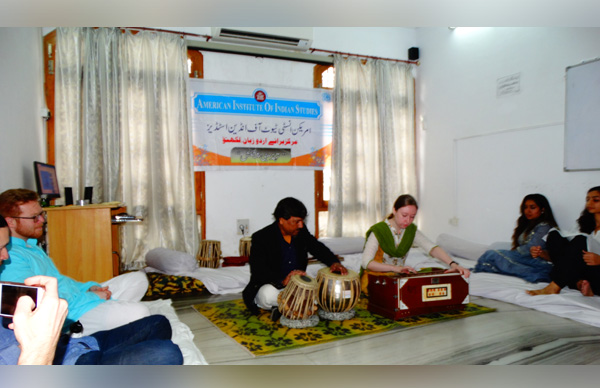 SAFLI-student Ms. Katherine performing Harmonium during cultural program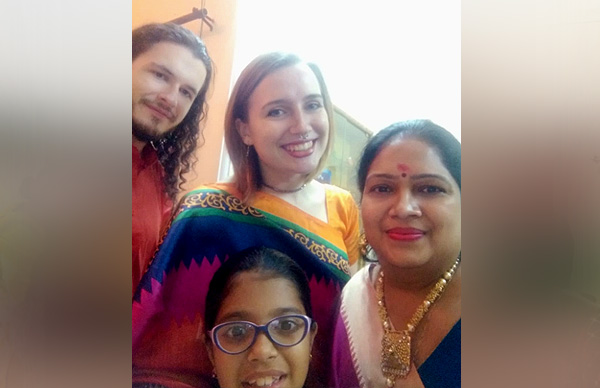 Selfie with host family
Traditional pooja with host family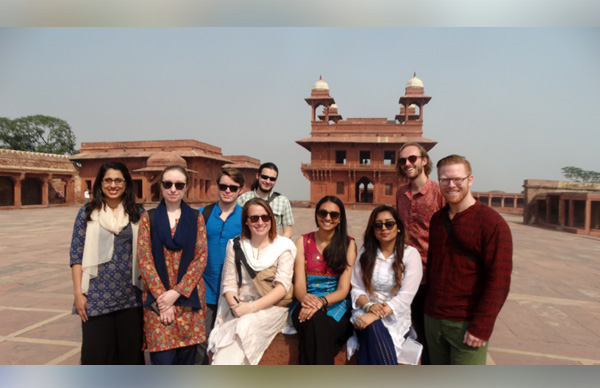 Urdu participants at Fatehpur Sikri on field trip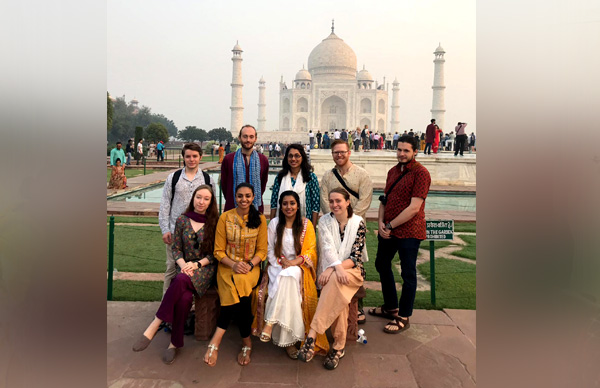 Urdu Participants at Taj Mahal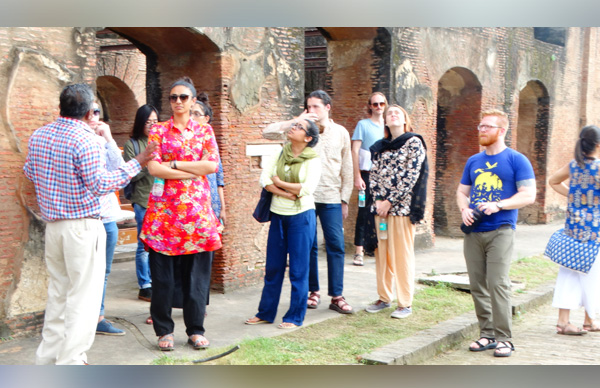 Urdu Participants at residency on local trip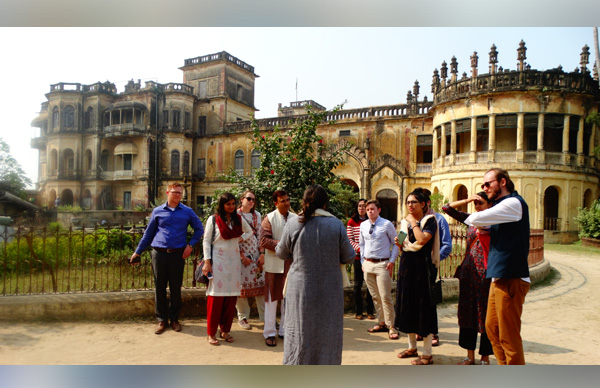 Urdu students at Mahmudabad fort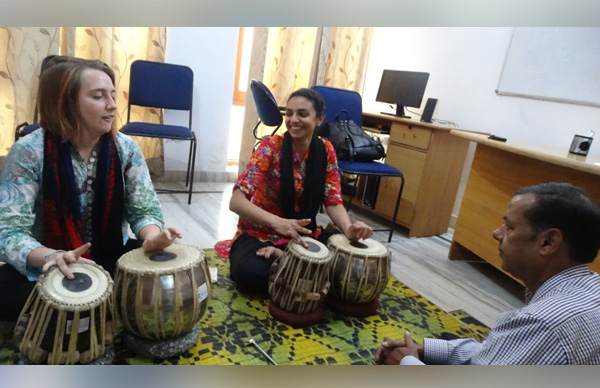 Urdu students learning Tabla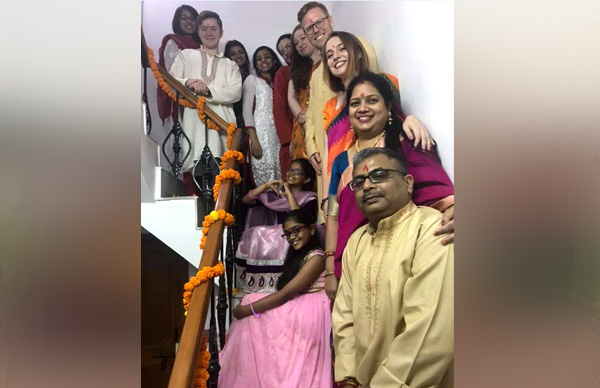 With Host family
American Institute of Indian Studies
URDU Language Program Center → Lucknow
Student's Expenditure Information
| | | |
| --- | --- | --- |
| Item | In Rupees | In Dollars, One USD = Rs. 74 |
| Host family rent per month (including AC, breakfast, dinner and meals on holidays) | 25000 | 338 |
| Host family rent per month excluding AC ( with breakfast, dinner and meals on holidays) | 18000 | 243 |
| Breakfast,lunch or dinner rate in a decent hotel | 750 to 1000 | 13.5 |
| Host family rent payment mode | Cash- Monthly in advance | |
| Laundry charges (per cloth) | 25 | |
| Conveyance to and from LP center (average) | 150 | 2 |
| Conveyance to and from Airport | 300 | 4 |
| Conveyance to and from Railway station | 200 | 3 |
| Internet (for buying a data card (Reliance / Airtel) | 2500 | 34 |
| Lunch rate at the program house (Monday - Friday) | 100 | 1.4 |
| Gym membership charges | 2000 | 27 |
| International courier charges | 3000 | 41 |
| Entertainment (ticket charges at a film theatre) | 300 to 600 | 4 to 8 |
| Mobile set and sim card (basic phone) | 2000 | 27 |
| Mobile set and sim card (smartphone) starting range | 6000 | 81 |
| Mobile or laptop repairing charges (excluding cost of parts) | 1000 | 13 |
| Doctor visiting charges (excluding medicines) | 750 | 10 |
| Cultural acitivity classes such as Kathak, singing, harmonium, sitar, etc. ( Per hour charges) | 500 to 1000 | 7 to 14 |
| Class materials | 200 to 500 | 3 to 6 |
| ISD calling charges USA/per minute | 15 Rs. | |
| Local Cloths/saloon/parlor | 2000 to 3000 | 28 to 41 |
ISD calling is 15 Rs. Per minute but some mobile companies provide special tarif vouchers. If one opts for it the calling to USA can be reduced to 1 Rs. Per minute. For any other information please contact AIIS Lucknow Program Head urdulp@aiis.edu.in
HOUSING INFORMATION
AIIS assists students in finding local accommodation within a reasonable commuting distance of the Language Program center. Depending on the size of the Program and the availability of suitable accommodations, students are sometimes housed in furnished apartments, but more commonly live in "paying guest" or "home-stay" arrangements in private homes, preferably with families who speak the target language. Detailed guidelines will also be sent to students once they are accepted into an AIIS Program.