Tibetan Language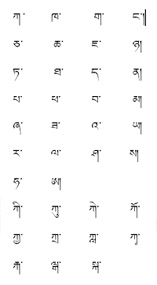 Tibetan language, spoken and written, is mainly used by Tibetans and the people of Himalayan regions including Ladakh, Kinnaur, Lahul Spiti, Arnunachal Monpa and many regions of Nepal and Bhutan as well. Although the dialects of these regions differ, but its written language is same.
The scripts and the root grammar of this language were created, designed and developed in the 7th century by Thonmi Sambhota. He was the minister of Emperor Songtsen Gampo, the 33rd king of Tibet. It has 30 consonants and 5 vowels. In addition there are various different formation from among these consonants as such it has four subjoined or legged letters, three superscripted or headed letters, five prefixes or five consonants before a root consonant within a syllable, ten suffixes or ten consonants after a root consonant within a syllable and two post-suffixes. These superscripted letters, subjoined letters, prefixes and suffixes make the language richest in sound production. I think no language in the world is so rich in the production of sound as it is in the Tibetan language, not even in Sanskritam. Today it has become a major language in studying Buddhism and trans-Himalayan history and culture.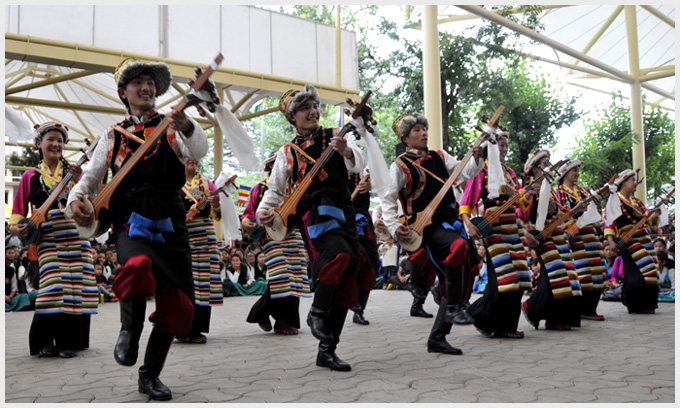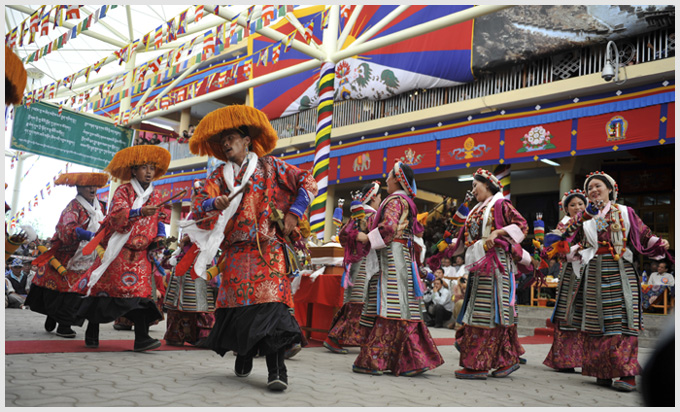 Regular Library Classes:
2nd Period: 9:00 am to 10:00am Intermediate Tibetan Language Course
3rd Period: 10:30 am to 11:30am Basic Tibetan Speaking
4th Period: 02:00 pm to 03:00pm Higher Intermediate Language Course
Individual Classes
1st Period: 08 am to 09:00 am With Mrs Nyima Dickey
5th Period: 05:30 pm to 07:00 pm with Mr Naga
In these individual classes the teachers will teach and prescribe the text book according to the level of the students. In the regular library classes, already there are set and published text books.
(We do not have already designed curriculum as the level of the students differ every year. And therefore we make curriculum in discussion with them every year. Several students have their own books to be read and discussed with them. That is why we handle accordingly when we meet the students. Although we have already arranged several textbooks and other materials before their arrival. )
SLP Course Format:
Reading Practices, Speaking Practices, Writing Practices, Listening Practices, Discussions and translations. Through these points the classes are held. Several hand outs and already published works from various universities are used. Spelling and handwriting are also taken into consideration. Among them speaking is given top priority. Visiting temples and cultural activities are also done.
Information about Dharamshala: Dharamshala is the second capital of the urban state of Himachal Pradesh. The Dalai Lama's residence and headquarter of Central Tibetan Administration are in Dharamshala. Westerners call it Little Lhasa as Lhasa in Tibet is the capital city of Tibet, today it is under Chinese occupation. The local Indians are Gaddhi tribe. People speak Gaddhi dialect, Punjabi language, Tibetan, Hindi and English. Mcleod Ganj has become a tourist spot these days. There are several Hindu and Buddhist pilgrimage such as Bhagsunath, Dull Lake, Dalai Lama temple and Chamunda Mandir. Also people enjoy the hill sides of Trion and and Dharmkot. The main dharma in the region are Hindu and Buddhism.
Library of Tibetan Works & Archives is situated at Dharamshala in Kangra district, Himachal Pradesh. One can reach Dharamshala from Delhi either by bus or by air. The bus starts from Delhi ISBT and also from Majnukatilla every evening around 5:30pm. It is one night from Majnukatilla to Dharamshala. Majnukatilla is a Tibetan colony in Delhi. The bus shall either drop you to lower Dharamshala or to Mcleod Ganj depending upon your destination. The airport of Dharamshala is known as Gaggal Airport. From there to Dharamshala the taxi rate is around 500/ rupees. The common name of the library is Tibetan Library (LTWA), and it is in between lower Dharamshala and Mcleod Ganj. From lower Dharamshala to LTWA it is 100/ rupee by taxi and also from Mcleod Ganj to LTWA it is 100/ rupees by taxi. The Library is a Tibetan cultural and spiritual institute where Tibetan language is taught since this is the medium through which the cultural and spiritual knowledge are imparted. This is where SLP Tibetan is held.
It has a pleasant weather from March to June, and then rainy season starts and last for three months. Then again pleasant weather comes from September to November. Winter months are cold from December to February. On average summer temperature is 25 degree centigrade and winter is 5 degree centigrade.
One can see Indians, Tibetans, Europeans, Americans, Vietnamese, Russians, Israelians, Koreans, Japanese and few Taiwanese as well. Africans and Chinese hardly you can see here.