Telugu Language Programme
Out of the 24 languages of the Dravidian family, Telugu is the most widely spoken language. It is primarily spoken in the Indian states of Telangana & Andhra Pradesh where it is the official language. Telugu is the 3rd most spoken language in India next to Marathi. It is the mother tongue of 120 million people of which 70 million are native and the rest of them living in different countries like U.S.A, Malaysia, Mauritius, South Africa, Fiji, Trinidad and the U.K. Linguists fondly call it "Italian of the East". Telugu is spoken in 3 distinct regional styles - Telangana, Rayalaseema, and Coastal Telugu. These styles have emerged over long periods of time due to specific historical and regional influences. Irrespective of these variations in spoken forms the coastal Telugu is taken as the standard language for all practical purposes.
Hyderabad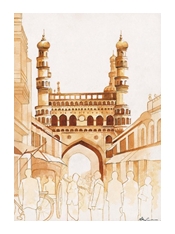 Hyderabad is the capital and largest city of the southern Indian state of Andhra Pradesh. Occupying 650 square kilometres (250 sq mi), along the banks of the Musi River, it has a population of 6.8 million and a metropolitan population of 7.75 million, making it the fourth most populous city and sixth most populous urban agglomeration in India. At an average altitude of 542 metres (1,778 ft), much of Hyderabad is situated on hilly terrain around artificial lakes, including HussainSagar-predating the city's founding-north of the city center.
Hyderabad is the capital and largest city of the southern Indian state of Telangana. Occupying 650 square kilometres (250 sq mi), along the banks of the Musi River, it has a population of 35 million, making it the fourth most populous city and sixth most populous urban agglomeration in India. At an average altitude of 542 metres (1,778 ft), much of Hyderabad is situated on hilly terrain around many lakes, including Hussain Sagar and Himayath sagar. With its colourful landscapes, rocky hillocks and many historical sites Hyderabad is considered as one of the beautiful cities in India.
Established in 1591 by Muhammad Quli Qutb Shah, Hyderabad remained under the rule of the QutbShahi dynasty for nearly a century before the Mughals captured the region. In 1724 Mughal viceroy AsifJah-I declared his sovereignty and created his own dynasty, also known as the Nizams of Hyderabad. The `Hyderabad State' ultimately became a princely state during British rule, and remained so for 150 years, with the city serving as its capital. The city continued as capital of the `Hyderabad State' after joining the Indian Union in 1948. Before attaining its current status as capital of Telangana state, it was also the focal point of Andhrapradesh from 1956 to 2014. Now Hyderabad serves as the joint capital of Telangana and Andhra Pradesh for few more years.
The QutbShahis and Nizams established Hyderabad as a cultural hub, attracting men of letters from different parts of the world. Hyderabad emerged as the foremost centre of culture in India with the decline of the Mughal Empire in the mid-19th century, with artists migrating to the city from the rest of the Indian subcontinent. It was historically known as a pearl and diamond trading centre, and it continues to be known as the City of Pearls. Many of the city's traditional bazaars, including Laad Bazaar, Begum Bazaar and Sultan Bazaar, have remained open for centuries. However, industrialisation throughout the 20th century has also attracted major Indian manufacturing, research and financial institutions. With its composite culture Hyderabad is now considered as miniature India. City accommodates many vibrant festivals such as Batukamma (Floral festival of Telangana), Bonaalu (Mother goddess festival) and Piirla panduga (Moharrum), Kamuni punnami (Holi) etc.
Climate
Hyderabad has a tropical wet and dry climate bordering on a hot semi-arid climate. The annual mean temperature is 26C (78.8F); monthly mean temperatures are 21.32C (70.90 F). Summers (March, June) are hot and humid, with average highs in the mid30s Celsius, maximum temperatures often exceed 40C (104 F) between April and June. Winter lasts for only about 2 1/2 months, during which the lowest temperature occasionally dips to 10 C (50 F) in December and January. May is the hottest month, when daily temperatures range from 26 to 38.8 C (102 F) (79-102 F); January, the coldest, has temperatures varying from 14.7 to 28.6 C (83 F) (58.83 F).Temperatures in the evenings and mornings are generally cooler because of the city's moderate elevation. Heavy rain from the south-west summer monsoon falls between June and September supplying Hyderabad with most of its annual rainfall of 812.5 mm (32 in).The highest total monthly rainfall, 181.5 mm (7 in), occurs in September
Classes offered
Generally the AIIS Telugu Language Program being operated from Hyderabad. It has been evolving progressively from last 20 years customizing the learning process according to student specific needs. With core objectives and curriculum as focus and innovative delivery methods as variables, the program follows a holistic approach. Due to Covid-19 situation as of now `online classes' are being offered in all three levels (basic, intermediate and advanced). Hopefully `In-person' regular classes at Hyderabad campus will be resumed after the pandemic situation. Classes follow the below semester system.
Summer Programs: 8 weeks, from June to August
Academic Year Programs: 8 months, from September to April
One Semester Programs ( Sept-Dec or, Jan-April)
Superior Level Language Program

(Students participating at the superior level come with advanced level language training and some materials in mind to work with, and a plan for what they want to accomplish while with the AIIS. This might be books or articles pertaining to their research or something else which is relevant for their language learning. In addition to helping the students with their specific goals, AIIS will develop materials appropriate more broadly for Superior-level students, such as classical literature, and high level vocabularies, and foster superior level listening skills through movies and speaking through activities like debate and oral presentation on complex topics. In addition, the AIIS will introduce students, learners to resource persons/experts in their fields).
AIIS TELUGU ONLINE CLASS SCHEDULE
ADVANCED
INTERMEDIATE
BASIC
Day
Time: 60 min
7:30pm-8:30pm
(IST)
I
Time: 60 min
8:40pm-9:40pm
(IST)
II
Time: 60 min
9:50pm-10:50pm
(IST)
III
Time: 60 min
7:30pm-8:30pm
(IST)
I
Time: 60 min
8:40pm-9:40pm
(IST)
II
Time: 60 min
9:50pm-10:50pm
(IST)
III
Time: 60 min
7:30pm-8:30pm
(IST)
I
Time: 60 min
8:40pm-9:40pm
(IST)
II
Time: 60 min
9:50pm-10:50pm
(IST)
III
Monday
Reading magazine
CS*
Grammer Review
VK*
Journal Writing
CS
Weekend Review, Vocabulary
CS
Grammer Review
VK
Listening audio & journal writing
CS
Weekend work Review Grammer
VK
Script/ Vocabulary drill
CS
Listening & Grammer drill
VK
Tuesday
Listening Video
CS
Grammer drill
VK
Film Discussion
CS
Reading Literature
CS
Grammer review
VK
Listening audio
CS
Grammer
VK
Script/ Vocabulary
CS
Listening & Grammer drill
VK
Wednesday
Weekly guest VK Word game
CS
Word game
CS
Reading (Literature)
VK
Weekly guest VK
Idiomatic Expressions & Vocabulary
CS
Grammer review
VK
Writing/Vocabulary
CS
Grammer Review
VK
Grammer drill
CS
Thursday
Listening audio
CS
Grammer
VK
Vocabulary (Conversation)
CS
Reading magazine
CS
Conversation
VK
Listening Video
CS
Grammer
VK
Listening
CS
Grammer drill
VK
Friday
Pronunciation & Dictation
CS
Oral Presentation
VK
Conversation
CS
Pronunciation & Dictation
CS
Conversation & Oral Presentation
VK
Word game
CS
Conversation
VK
Pronunciation & Dictation
CS
Word games
VK
General outline of syllabus
The syllabus is flexible. After receiving students CVs and the statement of purpose, necessary changes are made taking into consideration students' interests. Elementary/basic level; Intermediate level and Advanced level classes are offered depending on the students proficiency levels. All the classes are held in Telugu much as extent possible. The program aims at developing students' proficiency in speaking, reading, writing and listening.
Speaking: Activities such as interactions with native speakers (weekly guest interviews), picture narration, storytelling, oral presentations, role playings etc are undertaken.
Reading: Texts are selected from varies resources such as modern literary works, newspapers and magazines etc.
Personal Learning: Students read the text of their choice.
Writing: Students write a journal every week and also translate different passages from English to Telugu, Telugu to English.
Listening: Different audio material is played and students try to comprehend it and discuss.
Grammar: According to the students' level, instructional grammar classes with different drilling exercises are given.
Vocabulary: The vocabulary is reviewed every day and the peculiar usages will also be discussed.
Weekly guest: In order to overcome the cultural barriers and linguistic anxieties, weekly Interactions with the native speakers are organised.
Field Trips (virtual tours): Students visit various historical and educational sites. Students are also encouraged to participate in outdoor local activities such as lectures at university campuses, literary programs and weekend film watching.
Student Activities
Programme @Hyderabad (Exploring composite culture)
After the pandemic situation Instruction will be offered at the AIIS Language Centres and the program will be administered in India by AIIS staff. This is an intensive language program that provides four hours of classroom instruction five days a week. Classes are small and individual tutorials are provided. There will be regular assignments outside of class and there is special emphasis on connecting with the local speech community and on self-management of learning. Participants must take part in all program events, such as attending films, plays, and other cultural activities. They are also encouraged to stay with local host families. This is not a research program; participants are expected to devote all their energies to activities that will increase their competence in all areas of language skills--speaking, listening, reading, and writing. Participants will have ample opportunity to study their research-related materials in the target language during personal tutorials.
Housing & Expenditure in Hyderabad
AIIS assists students in finding local accommodation within a reasonable commuting distance of the Language Program centre. Depending on the size of the Program and the availability of suitable accommodations, students are sometimes housed in furnished service apartments, but more commonly live in "paying guest" or "home-stay" arrangements in private homes, preferably with families who speak the target language. Detailed guidelines will also be sent to students once they are accepted into an AIIS Program.
Housing & Expenditure in Hyderabad*
Item
In Rupees
In Dollars,
One USD = Rs. 73.98
Service apartment (Including all arrangements kichen, wifi)
35000/-
473.27
Host family rent per month (Includes one-bedroom with A.C & common kitchen, without meals)
30000/-
405.66
Host family rent per month (Including Non AC but with cooler, breakfast , dinner, and meals on holidays
25000/-
338.05
Flats of 3 BHK for 3 students with AC including water (No meals)
- 30000/- + electricity
405.66 +
Breakfast , Lunch and Dinner rate in a decent hotel
200/-
400/-
400/- respectively
2.70
5.41
5.41
Host family rent payment mode
Monthly in advance
-
Laundry charges ( per cloth)
45/- *
0.61
Conveyance to and from LP Centre (average)
175/-
2.37
Conveyance from/to Airport
800/-
10.82
Conveyance from/to Railway station
600/-
8.11
Internet/Wi-Fi ( for buying a data card)
2500/-
33.81
Monthly recharge for Internet
750 to 1000/-
10.14 to 13.52
Lunch rate at the program house ( Monday-Friday)
120/-
1.62
Gym charges and membership charges
1500/-
20.28
International courier charges
1500/- First Flight
20.28
Entertainment (ticket charges at film theatre )
300/-
4.06
Mobile set and SIM card (Basic model)
2500/-
33.81
Doctor Consultation fees
700/- to 1000/-
10.14 to 13.52
Music classes like Carnatic music, dances etc. ( Per hour charges)
700/-
10.14
Class materials
500/-
6.76
Local Cloths/saloon/parlour
3000/-
40.57
Amazon prime membership, monthly charges (basic connection)
999/-
129/- respectively
13.51
1.74
Winter cloths (Jacket, Caps, Glosses etc.)
4000
54.09
Stationery per month (Print outs, Xerox etc.)
500
6.76
Visiting Historical Places in Telangana & Andhrapradesh
(Depends on distance, Entry tickets etc.)
-
*It depends on area & life style
For any other information, please contact Program Head telugu@aiis.edu.in
Eligibility and application procedure info
Eligibility
The Advanced Language Program in India is open to graduate, and junior or senior-level undergraduates at institutions of higher education in the U.S. who are pursuing an academic or government service career. Teachers in area studies are also eligible to apply.
The AIIS Language Program offers both nine-month academic year and ten-week intensive summer courses. The Institute also offers both Fall and spring semester program. Applications for AIIS Telugu language program is available in mid-October and are due in late January; the selection process is finished in late March. Academic-year program students may compete for full fellowships funded through the U.S. Department of Education; summer program applicants should seek funding from their home institutions and may also be considered for a limited number of partial scholarships from AIIS.
For further information, please go to www.indiastudies.org.
Applications and information are available on the web: American Institute of Indian Studies 1130 East 59th Street, Chicago, IL 60637. Tel. (773) 702-8638. aiis@uchicago.edu www.indiastudies.org
Students comments about Telugu programme
"Because of the global pandemic, I have been learning Telugu online since June 2020. While learning a brand new language online for the first time has been challenging, it's been rewarding in so many ways. I am able to focus on texts that I am interested in while learning to speak Telugu slowly. Without the ability to travel, we lose out on the sensorial dimension of the language, but we have adapted through video tours of different sites, speaking with native speaker guests in and around their house, and getting recipes to cook Andhra and Telangana specialities. I am grateful to Vimala garu and Chandu garu for facilitating the classes online and working with all of us patiently. I hope to travel to Hyderabad one day to meet the people whom I've grown so close to just through a computer screen!"
--Janani mandhyam Comar
Online summer-fall Telugu language programme student