Kannada
Karnataka (Kannada) is a state of the republic of India located in the South West of peninsula. Created on the 1st of November 1956 as Mysore State, It was renamed as Karnataka in 1973. Its capital city Bangalore is at the forefront of rapid economic and technological development that India is experiencing.
Kannada, the official language of Karnataka, is spoken as a native tongue by about 64.8% of its inhabitants. Other languages spoken languages in this State are Urdu, Telugu, Tamil, Marathi, Tulu, Hindi , Konkani, Malayalam, and Kodava . The diverse linguistic and religious ethnicities of this land, with their histories, have contributed immensely to the cultural mosaic and heritage of Karnataka.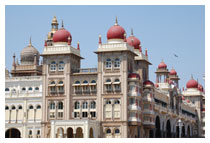 Kannada speakers are approximately 60 million in numbers. This ancient Dravidian language is attested epigraphically from about mid-first millennium AD and the literary Old Kannada flourished in the 9th to 10th centuries. Contemporary Kannada literature has been most successful in India, in terms of recognition. India's highest literary honor, the Jnanpith awards, has been conferred seven times upon Kannada writers, highest for any language in India. Based on the recommendations of the Committee of Linguistic Experts (appointed by the Ministry of Culture), the Government of India officially recognized Kannada as a classical language
The location:
AIIS Kannada Language program is located in the historic city of Mysore. The city ( at 770MSL) with a salubrious climate is about 140 kms from Bangalore. Known as ' City of Palaces', Mysore retains a quaint charm, that never fails to enchant. Situated in the southern part of Deccan Plateau, Mysore is an undulating tableland, covered in parts by granite outcrops and fringed by verdant forests. A popular tourist destination of India, this educational and cultural center also offers several added attractions ranging from the splendid royal splendor of old Mysore ( with its fabulous Dasara Festival) to its exquisite temples, pilgrimage centers and scenic spots.
Mysore City Summary :
City Population: 7. 8 Lakhs
Area : 128.42 Sq Kms
Summer Temp: 21°C-34°C
Winter Temp: 12°C-30°C
The Program
The syllabus is designed according to the students' proficiency level and their focus of interest. The medium of instruction for all classes is Kannada.
SLP 2020 - Kannada Language Program - (Weekly online Schedule)
Period Day
1
7.30-8.30 pm
2
8. 35- 9.35 pm
3
9.40 -10.40 pm
Monday
Grammar
General
Vocabulary Writing
Tuesday
Introduction to written and oral texts along with reading
Introduction to Medieval texts and Folklore
Culture specific Vocabularies and writing
Wednesday
Grammar
Reading modern texts
Listening comprehension / Documentaries
Thursday
Reading exercise
Oral discussion on Medieval texts
Culture specific Vocabularies
Friday
Grammar Drill and Newspaper reading
Weekly test
Writing
American Institute of Indian Studies
Kannada Language Program Center → Mysore
Student's Expenditure Information ( Approximate)
| | | |
| --- | --- | --- |
| Item | In Rupees | In Dollars → 1 USD = Rs. 82 |
| Host family rent per month - Usually the land owner will ask for three-month advance) | 22000 (including bed tea/coffee, breakfast, Lunch, evening tea with biscuits, and dinner | 270 |
| Breakfast, Lunch and Dinner rate in a decent hotel | 500 per day | 6 |
| Conveyance (to and from LP Centre) | Rs.150 per day | 2 |
| Internet (including data card) Tata Photon / Reliance | 3000 per month | 36 |
| Mobile recharge | 500 | 6 |
| Gym membership and monthly charges | 3500 | 42 |
| Entertainment (Ticket charges at Theatre) | 350 | 4 |
| International courier charge (per k.g.) | 3500 | 67 |
| Mobile handset | 6000 | 70 |
| ISD Calling USA /Per minute | Rs.10/- | |
HOUSING INFORMATION
AIIS assists students in finding local accommodation within a reasonable commuting distance of the Language Program center. Depending on the size of the Program and the availability of suitable accommodations, students are sometimes housed in furnished apartments, but more commonly live in "paying guest" or "home-stay" arrangements in private homes, preferably with families who speak the target language. Detailed guidelines will also be sent to students once they are accepted into an AIIS Program.