Odia
Oriya (ଓଡ଼ିଆ oṛiā), officially spelled Odia is an Indian language, belonging to the Indo-Aryan branch of the Indo-European language family. It is mainly spoken in the Indian states of Odisha and in parts of West Bengal, Jharkhand, Chhattisgarh and Andhra Pradesh. Oriya is one of the 22 official languages in India; it is the official language of Odisha and the second official language of Jharkhand. Oriya is the predominant language of Odisha, where Oriya speakers comprise around 83.33% of the population according to census surveys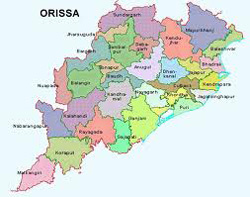 The history of Oriya language is divided into Old Oriya (10th century-1300), Early Middle Oriya (1300-1500), Middle Oriya (1500-1700), Late Middle Oriya (1700-1850) and Modern Oriya (1850 till present day). Oriya literature up to 1500AD mainly covers poems and prose with religion, gods and goddesses as the main theme. The earliest use of prose can be found in the Madala Panji or the Palm-leaf Chronicles of the Jagannatha temple at Puri, which date back to the 12th century. The first great poet of Orissa is the famous Sarala-Das who wrote the Chandi Purana and the Vilanka Ramayana, both praising the goddess Durga. Rama-bibha, written by Arjuna-Das, is the first long poem in Oriya language. The next era is more commonly called the Jagannatha Dasa Period and stretches till the year 1700. The period begins with the writings of Shri Chaitanya whose Vaishnava influence brought in a new evolution in Oriya literature.
Balarama Dasa, Jagannatha Dasa, Yasovanta, Ananta and Acyutananda were the main exponents in religious works in Oriya. A new form of novels in verse evolved during the beginning of the 17th century when Ramachandra Pattanayaka wrote Haravali. Other poets like Madhusudana, Bhima, Dhivara, Sadasiva and Sisu Isvara-dasa composed another form called Kavyas or long poems based on themes from Puranas. The language used by them was plain and simple Oriya.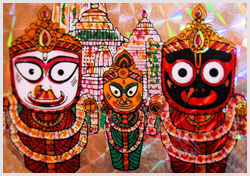 However, from the turn of the 18th century, verbally tricky Oriya became the order of the day. Verbal jugglery, obscenity and eroticism became the trend of the period between 1700-1850, the most notable poet being Upendra Bhanja (1670-1720). Other poets turned up in hordes to imitate him but none could fit into his shoes, with the exceptions of Bhima-Bhoi and Arakshita Dasa. Family chronicles in prose and literature relating religious festivals and rituals also covered a large portion of this period.
Three great poets and prose writers, Rai Bahadur Radhanatha Ray (1849-1908), Madhusudana Rao (1853-1912) and Phakiramohana Senapati (1843-1918) settled in Orissa and made Oriya their own. They brought in a modern outlook and spirit into Oriya literature. Around the same time the modern drama took birth in the works of Rama Sankara Ray beginning with Kanci- Kaveri (1880).
20th Century writers in Oriya literature mirrors the industrious, peaceful and artistic image of the Oriya people.
Other information:
Established on
April1, 1936
Capital
Bhubaneswar
Dance
Odissi
Song:
Bande Utkal Janani
Language :
Odia
Population :
41,947,358
Districts:
30
Literacy :
73.45 %
Weekly Schedule
Week I
Greetings ; Salutations & Farewell ; Self Introduction ; Numbers & Currency
Week II
Interacting with host family ---Transport, Directions, Ordering meals, Shopping
Week III
Shopping & Bargaining; Health ; Travel , Expressing, Future plan
Week IV
Description - Family, City ; Surroundings, University, Food, Weather Accepting & declining invitations
Week V
Narration of experiences (Past) Events, Books & Movies, cookery, Achievements
Week VI
Feelings & emotions ; Likes & dislikes ; Hobbies & Entertainment,
Week VII
Comparison of - Country& Climate ; Customs & Tradition ; Festivals & Fairs
Week VIII
Research topic, Politics, Religion, Current issues
Oriya Language Program Summer Language Program Time table
| | 9-10 | 10-11 | 15 min | 11.15-12 | 12-1 | 1-2 | 2-3 |
| --- | --- | --- | --- | --- | --- | --- | --- |
| Monday | Grammar | Prepared Reading | Break | Situational conversation & Debate | Tutorial | Lunch | Journal Correction |
| Tuesday | Oral Presentation | Sight Reading Newspaper Magazine Leaflets | Break | Paraphrasing & Essay Writing | Tutorial | Lunch | Zero hour |
| Wednesday | Prepared Reading | Pronunciation Spelling &Dictation | Break | Film Review | | Lunch | Zero hour |
| Thursday | Grammar Review | Listening Comprehension Audio & Video | Break | Error Correction | Tutorial | Lunch | Student Teacher Interaction Meeting |
| Friday | Weekly Test | Vocabulary Review & Drill | Break | Film Discussion Cookery Casual Chat alternately | Guest Interview & Tape Review | Lunch | Local Trip |