Telugu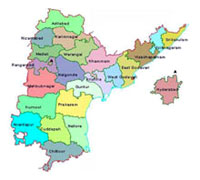 Out of the 24 languages of the Dravidian family, Telugu is the most widely spoken language. It is primarily spoken in the Indian state of Andhra Pradesh where it is the official language. Telugu is the 2nd most spoken language in India next to Hindi. It is the mother tongue of 120 million people of which 70 million are native and the rest of them living in different countries like U.S.A, Malaysia, Mauritius, south Africa, Fiji, Reunion , Trinidad and the U.K. Linguists fondly call it "Italian of the East". Within Andhra Pradesh Telugu is spoken in 3 distinct styles - Rayalaseema, Telangana, and Coastal Telugu. These styles have emerged over long periods of time due to specific regional influences. Irrespective of these variations in spoken forms the coastal Telugu is taken as the standard language for all practical purposes.
Hyderabad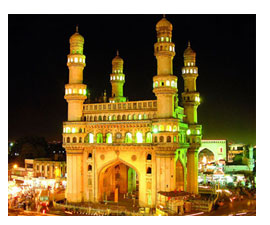 Hyderabad is the capital and largest city of the southern Indian state of Andhra Pradesh. Occupying 650 square kilometres (250 sq mi), along the banks of the Musi River, it has a population of 6.8 million and a metropolitan population of 7.75 million, making it the fourth most populous city and sixth most populous urban agglomeration in India. At an average altitude of 542 metres (1,778 ft), much of Hyderabad is situated on hilly terrain around artificial lakes, including HussainSagar—predating the city's founding—north of the city center.
Established in 1591 by Muhammad QuliQutb Shah, Hyderabad remained under the rule of the QutbShahi dynasty for nearly a century before the Mughals captured the region. In 1724. Mughal viceroy AsifJah I declared his sovereignty and created his own dynasty, also known as the Nizams of Hyderabad. The Hyderabad State ultimately became a princely state during British rule, and remained so for 150 years, with the city serving as its capital. The city continued as capital of a new Hyderabad State after joining the Indian Union in 1948 and before attaining its current status as the focal point of Andhra Pradesh in 1956. Hyderabad will be the joint capital of Telangana and Andhra Pradesh for 10 years.
The QutbShahis and Nizams established Hyderabad as a cultural hub, attracting men of letters from different parts of the world. Hyderabad emerged as the foremost centre of culture in India with the decline of the Mughal Empire in the mid-19th century, with artists migrating to the city from the rest of the Indian subcontinent. Hyderabad was historically known as a pearl and diamond trading centre, and it continues to be known as the City of Pearls. Many of the city's traditional bazaars, including Laad Bazaar, Begum Bazaar and Sultan Bazaar, have remained open for centuries. However, industrialisation throughout the 20th century has also attracted major Indian manufacturing, research and financial institutions..
Climate
Hyderabad has a tropical wet and dry climate bordering on a hot semi-arid climate. The annual mean temperature is 26 °C (78.8 °F); monthly mean temperatures are 21–32 °C (70–90 °F). Summers (March–June) are hot and humid, with average highs in the mid 30s Celsius maximum temperatures often exceed 40 °C (104 °F) between April and June.Winter lasts for only about 2 1/2 months, during which the lowest temperature occasionally dips to 10 °C (50 °F) in December and January.May is the hottest month, when daily temperatures range from 26 to 38.8 °C (102 °F) (79–102 °F); January, the coldest, has temperatures varying from 14.7 to 28.6 °C (83 °F) (58–83 °F).Temperatures in the evenings and mornings are generally cooler because of the city's moderate elevation. Heavy rain from the south-west summer monsoon falls between June and September supplying Hyderabad with most of its annual rainfall of 812.5 mm (32 in).The highest total monthly rainfall, 181.5 mm (7 in), occurs in September.
Telugu Language Program
The AIIS Telugu Language Program being operated from Visakhapatnam has been evolving progressively customizing the learning process according to student specific needs. With core objectives and curriculum as focus and innovative delivery methods as variables, the program follows a holistic approach
9-9.55
10-11
15 min
11.15-12.10
12.15-1
AN
Monday
Conversation
Personal Tutorial
Break
Magazine Reading
Dictation
Lunch
***
Tuesday
Film watching / Interaction with a monolingual guest
Review of the film / Review of weekly guest tape
Break
Personal Tutorial
Grammar
Lunch
***
Wednesday
Grammar Drills
Personal Tutorial
Break
Role plays / Situational conversations /Social functions
Literary reading
Lunch
Zero hour
Thursday
Personal Tutorial
Oral presentation
Break
Error correction
Cooking
Lunch
***
Friday
Vocabulary Review
Personal Tutorial
Break
Weekly Test
Feed Back
Lunch
***
HOUSING INFORMATION
AIIS assists students in finding local accommodation within a reasonable commuting distance of the Language Program center. Depending on the size of the Program and the availability of suitable accommodations, students are sometimes housed in furnished apartments, but more commonly live in "paying guest" or "home-stay" arrangements in private homes, preferably with families who speak the target language. Detailed guidelines will also be sent to students once they are accepted into an AIIS Program.