Sanskrit, Prakrit & Pali
Sanskrit belongs to the Indo Iranian branch of Indo European family. For centuries it has been accepted as the language of administration and learned communication in India. Therefore it comprises of a vast variety of literature. It includes epics, dramas, erotic poetry, devotional poetry, treatises on administration, politics, and modern sciences such as chemistry and so on. This ancient language has acquired more importance as the borders between different nations shrunk due to globalization.
About Location
The Sanskrit Language Program is located in Pune (erstwhile Poona), which is considered to be a seat of learning. It is also considered as the cultural and educational capital of Maharashtra. It boasts of a prestigious university, i.e. University of Pune, and many an institution of eminence. It has a special place in the development of Maharashtra and of India.
Pune's population is 3.5 million. Local language is Marathi, common language is Hindi, and English is also understood. Mid-June to mid-September is the Monsoon season. After monsoon comes Post-monsoon (Oct-Nov) with little rain and warm weather, Winter (Nov-Feb), Spring (Feb-March), Summer (April-May).
9-10
10-11
15 min
11.15-12
12-1
1-2
2-3
Monday
Textual Reading
Personal Tutorial
Break
Grammar
Listening
Lunch
Journal Correction
Tuesday
Textual Reading
Personal Tutorial
Break
Grammar
Speaking
Lunch
Zero Hour
Wednesday
Textual Reading
Personal Tutorial
Break

Grammar

Lunch
Zero hour
Thursday
Textual Reading
Personal Tutorial
Break
Translation
Guest Interview
Lunch
Teachers' Meet
Friday
Vocabulary
Textual Reading
Break
Weekly Achievement
Tape Review
Lunch
Local Trip & Student - Teacher Interaction on alternate week
The syllabus is flexible. After receiving students' CVs and the statement of purpose, necessary changes are made taking into consideration students' interests, and their proficiency level. All classes are held in Sanskrit to the extent possible. The program aims at developing students proficiency in reading, writing, listening and speaking.
Reading:
Textual Reading: Passages from a variety of Sanskrit literature are selected.
Personal Tutorial: Students read the text of their choice.
Magazine Reading and Modern Literature: Passages from Sanskrit magazine and modern literature are read.
Writing: Students write journal every week, They also translate different passages from English to Sanskrit.
Listening: Different audio material is played and students try to comprehend it.
Speaking: Activities, such as picture narration, story telling, debate, role play etc are undertaken.
Grammar Review: The applied grammar is reviewed along with different drilling exercises.
Vocabulary: The vocabulary of the week is reviewed and the peculiar usages are discussed.
Verse Recitation: Students recite and memorize different verses.
Local and Field Trips: Students visit Sanskrit institutions and other traditional sites.
Some outdoor activities: Students gather information about Sanskrit institutions by speaking with them in Sanskrit and submit the report. A language camp may also be arranged
Advanced Reading Course in Sanskrit
Eligibility - Minimum three years of Sanskrit study.
Duration - one semester (Fall or Spring) from the academic year.
The Aim of this reading course is to make students familiar with various advanced and classical texts in Sanskrit, and the traditional method of analysis and textual criticism presented in these texts. The texts vary in range and nature from poetry to poetics and from veda and vedāṅga literature to philosophical literature such as sāṅkhya, nyāya, mῑmāṁsā, vedānta, tantra etc. and also commentarial literature.
A screening test may be executed to know students proficiency.
The teaching will be for three hours (9 a.m. to 12 .15 p.m.) from Monday to Friday, while one hour will be kept for discussion and writing. This class will be devoted to reinforce the content and the arguments made in the texts read earlier. This particular method is a traditional way of reinforcement which is called as anuvāda.
The medium of instruction will be Sanskrit.
Initially a dialogue and discussion class may be taken for making students familiar and comfortable in speaking which would be required for the rest of the course.
The last class may be converted into a dialogue and discussion class for first couple of weeks.
Special guest speakers may be invited to speak on a particular branch.
Tests will be arranged periodically to evaluate students understanding and progress.
There will be different texts and schools chosen for the reading course every couple of years, and will be uploaded on the website.
The texts for the reading course are:
Weeks 1 - 5:
9 a.m. to 10.30 a.m.
nāṭyaśāstra 1st, 18th , 19th chapters
10.45 a.m. to 12.15 p.m.
śākuntalam (firts act) referring rāghavabhaṭṭa commentary
Weeks 6 - 10:
9 a.m. to 10.30 a.m.
sāṅkhyakārikā with sāṅkhyatattvakaumudῑ
10.45 a.m. to 12.15 p.m.
vyākaraṇa-mahābhāṣya – paspaśāhnika.
Weeks 11 - 15:
9 a.m. to 10.30 a.m.
chāndogya -upaniṣad - 6th adhyāya with śāṅkarabhāṣya
10.45 a.m. to 12.15 p.m.
ῑśvara-pratyabhijñāvimarśiṇῑ - āgamādhikāra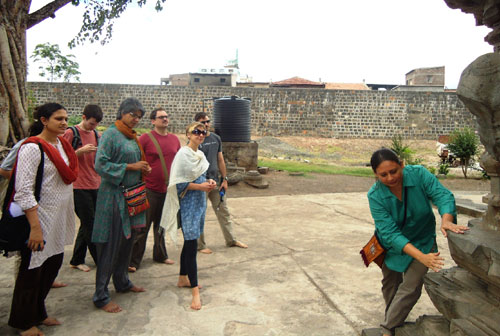 Sanskrit students at a field trip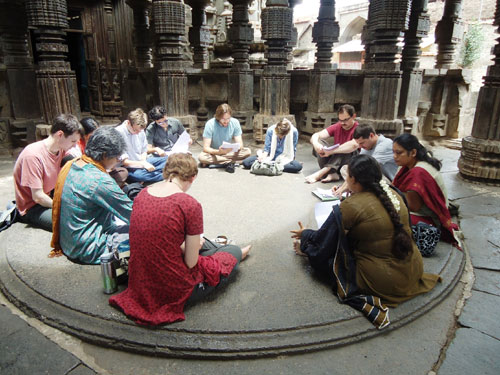 Sanskrit students reading an inscription
American Institute of Indian Studies
Language Program Center → Pune-
(FOR SANSKRIT, MARATHI, PRAKRIT, SINDHI AND KONKANI LANGUAGES)
Student's Expenditure Information
| | | |
| --- | --- | --- |
| Item | In Rupees | In Dollars, One USD = Rs. 70 |
| Host family rent per month (Including AC, breakfast, dinner, and meals on holidays) | 20,000- 25,000/- | 300 -367 |
| Host family rent per month (Including Non AC but with cooler, breakfast , dinner, and meals on holidays | 15,000 - 18,000/- | 250 - 300 |
| Apartment Rent per month- (per room - independent bedroom,) living room and kitchen common, ( Including sweeping, moping, cleaning the bathrooms, cleaning kitchen utensils ) but it doesn't include breakfast, dinner, and meals | 20,000- 25,000/- | 300 -367 |
| Host family rent payment mode | Cash Payment | Cash Payment |
| Laundry Charges Per cloth (simple Washing & Ironing) | Rs.40/- | |
| Conveyance to & fro from LP Center (average) | Rs.400/- | 6 |
| Internet (for buying a data card (Tata Photon/Reliance/Idea) | Rs.2500/- | 38 |
| Lunch Rate at program house (Monday-Friday) * | Rs.750/- | 10 |
| Gym Charges and membership fees | Rs.650/- | 9 |
| Gym membership fees | Rs.2500-3000/- | 41 - 50 |
| International Courier Charges (for 100 gms weight) | Rs.2000/- | 30 |
| Entertainment (ticket charges at Film Theatre) | Rs.250/- | 4 |
| Mobile set including SIM Card (Basic model) | Rs.1600/- | 23 |
| Doctor Consultation Fees (if you go to hospital) (if doctor visits your home) | Rs.350/- to 1500/- | 6 - 25 |
| Music classes like Katthak, singing, harmonium, sitar learning etc (Per hour charges) | Rs.750/- | 10 |
| ISD Calling USA/ Per minute | Rs.2-10/- | |
HOUSING INFORMATION
AIIS assists students in finding local accommodation. Please note that AIIS Pune Language Center is far from the main city area, therefore the distance from the home/apartment can vary from 10-15 kms, one way. Depending on the size of the Program and the availability of suitable accommodations, students are sometimes housed in furnished apartments, but more commonly live in "paying guest" or "home-stay" arrangements in private homes, preferably with families who speak the target language (Not appicable for Sanskrit, Pali and Prakrit). Detailed guidelines will also be sent to students once they are accepted into an AIIS Program.
Dear AIIS SLP Konkani/Marathi/Pali/Prakrit/Sanskrit Participants,
Greetings from AIIS-Pune and heartiest congratulations for joining in AIIS Language Family.
Mr. Anil Inamdar, [Mobile No.8308195791] or Mr. ShantaramGavade [Mobile No. 9822418512] will meet you at the Pune airport/Pune Railway station/Pune Bus Stand, as per arrival details communicated by you.
Please note the address of the Hotel wherein; initial stay (on twin sharing basis) of all participants has been arranged for the one night [11/6/2019) on your arrival, as per institute rules (Check Inn 12:00 Check Out 10.00 a.m,) with Complimentary breakfast arrangement).
The Oakwood Hotel, Deccan Gymkhana, Next to Good Luck Square, Bhandarkar Road, Pune - 411 004 Phone No. 91-20-25651138, Mr. Sekhar 9420496601The Oakwood oakwood.tg@gmail.com.
Lunch/Dinner, Laundry, Personal Phone Calls etc. needs to be paid by you directly to The Oakwood Hotel.
As per the schedule there will be an Orientation in A-2 Conference Hall (Third Floor) at sharp 09.00 a.m..atthe following address. The student shall have the breakfast in Hotel Oakwood, check out the room, keep the luggage in the Reception lobby of The Oakwood hotel and come to the next block (on your (left side).
PYC Hindu Gymkhana & Sports Foundation
766 Bhandarkar Road, Opp. to Girikand Travels
Next to Good Luck Chowk, Pune - 411 004
Phone No. 020-25664747/020-25664949

The institute have asked The Hotel Oakwood for providing an accommodation for those students who would be arriving early in Pune, or else AIIS will arrange it at some other hotel In Pune City. The participants shall pay directly go to The Hotel Oakwood first, on the above given address.
After Orientation as per schedule, there will be a lunch arranged by the Institute for all the students, teachers of AIIS, invited speakers and host families (between 12:30 to 2:00 pm) and the students shall be moved to the host families/flat/apartments (between 2:00 p.m. to 4:00 p.m.). Assistance and guidance will be provided by program head.
Mumbai to Pune:
A good option for getting to Pune from Mumbai International Airport is KK Travels. They operate a limousine (well, a large car) shuttle service between drop-off points in Pune and the domestic and international terminals in Mumbai. The cars run 24/7, and you can book them via e-mail. One seat (with luggage in back) costs around Rs. 1200, and they will drop you off anywhere in Pune City. Cars are clean, drivers are courteous, and they put your name on a signboard and wait for you. They stop at one rest area along the Mumbai-Pune expressway for bathroom, etc. Many AIIS scholar use this company regularly. They are equally good for transport in the other direction. They know exactly how long the drive will take in order to get you to the terminal at the proper time. Those student who want to come from Mumbai to Pune by road can contact M/s KK Travels on Mobile No. 9371099797, 9370599797, 9011979797, 9860100100, 9822979797, 9527507979 and email ID mumbai@kktravels.com, kktravels@kktravels.com or they write to aiispune@aiis.edu.in aiispune@aiis.edu. in giving requirement such as pick up time/date/address to enable us to arrange a reliable car service. If any participant want to stay in Mumbai they may contact following hotels.
HOTEL AIRPORT INTERNATIONAL
Nehru Road, Ville Parle (East),
Mumbai - 400 099. INDIA
Phone: ( 91-22 ) 26182222
Fax : ( 91-22 ) 26183333
E-mail : reservations@hotelairportinternational.com
Website - www. hotelairportinternational.com
Hotel Transit
Near Domestic Airport, Vile Parle (East)
Mumbai - 400099.
Maharashtra. INDIA.
Tel: +91 22 26128882, 66930761-3
Fax: +91 22 26105785
E-mail:reservation@hoteltransit.in, transit1@vsnl.com
Website: www.hoteltransit.in
Please arrange to send scan copies of Passport and Visa (in PDF format) and colour photo (passport size in jpg format of 50 KB size)by email. Each participant will have 6 passport size colour photographs. Please carry Photo ID in USA [Driving Licence or University Card] and your bank account details [in case of need, a statement may be asked for online registration] with you.
Please note that the FRRO registration has been made ONLINE since 1/10/2018. Individual students will have to apply online for registration and upload required documents online (if there visa endorsement clearly states that Registration required within 14 days of arrival in India). Except photo (jpg format) other documents (passport, visa, C form, Bonafide Certificate etc) are required in PDF format. The list of documents to be uploaded is given in the website. The link for online registration is given below:
https://indianfrro.gov.in/eservices/home.jsp The email ID of Mumbai FRRO is given for your information: helpdesk.mum-ivfrt@gov.in, frromum@nic.in, SUPRIYA PATIL YADAV
helpdesk.mum-ivfrt@gov.in, Incharge Registration Branch


Those students who have an OCI or PIO card do not need to register.




The C Form submission is also made Online by FRRO. The C Form needs to be submitted online within 24 hours of shifting to the host family or an apartment. The link for online submission of Form C ishttps://indianfrro.gov.in or Search User Registration Page ? Indian FRRO OnGoogle https://indianfrro.gov.in/frro/FormC. User Registration for Form 'C' - FRRO https://indianfrro.gov.in/frro/FormC/accom_reg.jsp?




Request Form for User Registration - FRRO
https://indianfrro.gov.in/frro/FormC/userregpdf.jsp
The host family will have to first fill in the User Registration Form for Individual House. The link to this page is given below.
https://indianfrro.gov.in/frro/FormC/menuuserreg.jsp




Once the registration is done, you will have to Sign in again and then select C Form (Add). Those students who have made their own housing arrangement will have to seek the help of their house owners to complete the C Form Formalities and submit a copy for the record of AIIS Office. Students with Indian nationality need not fill in the C Form.

AIIS will arrange to create ONLINE S Forms [FSIS] Numbers for all the students participating in the language programs [this is also needed to send monthly attendance, absence to class continuously for a week, update Registration Details, Upload Photo, Update departure etc]. AIIS will also prepare Bonafide Certificates mentioning S Form Number on it.

There is no need to visit Pune FRRO Office. Students can sit at home and do the online registration. The students will be contacted thru email by FRRO Mumbai Central Office, which is controlling FRRO Offices in Maharashtra State.




Please note the AIIS Officers contact details:
Mr. Anil Inamdar
Administrative Officer
aiispune@aiis.edu.in
Cell No. 8308195791
Ms. Madhura Godbole
Head-Sanskrit Language Program
sanskritlp@aiis.edu.in
Phone No.
020-26612471

Mr. Shantanu Kher
Incharge-Marathi Language Program
marathilp@aiis.edu.in
Cell No. 9881160354, 9011103732
Dr. Ahtesham Khan
Coordinator (Programs)
languageprograms@aiis.edu.in
Cell No. 9540092827
Ms.Purnima Mehta
Director General
aiisdelhi@aiis.edu.in
Phone No. (011)-24625386, 24698930
I hope the above information will meet your requirement. Please get in touch with us in case you need more information. Looking forward to meeting you. With good wishes, AIIS Pune-Team





American Institute of Indian Studies
Deccan College Campus, S.No. 24 Yervada, Opp. Deccan College Ground, Pune - 411 006
Phone No. 020-26682932/26695531
EmailID - aiispune@aiis.edu.in (new)
Website - aiislanguageprograms.org, indiastudies.org
Cell No. 8308195791