Sanskrit, Prakrit & Pali
Sanskrit belongs to the Indo Iranian branch of Indo European family. For centuries it has been accepted as the language of administration and learned communication in India. Therefore it comprises of a vast variety of literature. It includes epics, dramas, erotic poetry, devotional poetry, treatises on administration, politics, and modern sciences such as chemistry and so on. This ancient language has acquired more importance as the borders between different nations shrunk due to globalization.
About Location
The Sanskrit Language Program is located in Pune (erstwhile Poona), which is considered to be a seat of learning. It is also considered as the cultural and educational capital of Maharashtra. It boasts of a prestigious university, i.e. University of Pune, and many an institution of eminence. It has a special place in the development of Maharashtra and of India.
Pune's population is 3.5 million. Local language is Marathi, common language is Hindi, and English is also understood. Mid-June to mid-September is the Monsoon season. After monsoon comes Post-monsoon (Oct-Nov) with little rain and warm weather, Winter (Nov-Feb), Spring (Feb-March), Summer (April-May).
9-10
10-11
15 min
11.15-12
12-1
1-2
2-3
Monday
Textual Reading
Personal Tutorial
Break
Grammar
Listening
Lunch
Journal Correction
Tuesday
Textual Reading
Personal Tutorial
Break
Grammar
Speaking
Lunch
Zero Hour
Wednesday
Textual Reading
Personal Tutorial
Break

Grammar

Lunch
Zero hour
Thursday
Textual Reading
Personal Tutorial
Break
Translation
Guest Interview
Lunch
Teachers' Meet
Friday
Vocabulary
Textual Reading
Break
Weekly Achievement
Tape Review
Lunch
Local Trip & Student - Teacher Interaction on alternate week
The syllabus is flexible. After receiving students' CVs and the statement of purpose, necessary changes are made taking into consideration students' interests, and their proficiency level. All classes are held in Sanskrit to the extent possible. The program aims at developing students proficiency in reading, writing, listening and speaking.
Reading:
Textual Reading: Passages from a variety of Sanskrit literature are selected.
Personal Tutorial: Students read the text of their choice.
Magazine Reading and Modern Literature: Passages from Sanskrit magazine and modern literature are read.
Writing: Students write journal every week, They also translate different passages from English to Sanskrit.
Listening: Different audio material is played and students try to comprehend it.
Speaking: Activities, such as picture narration, story telling, debate, role play etc are undertaken.
Grammar Review: The applied grammar is reviewed along with different drilling exercises.
Vocabulary: The vocabulary of the week is reviewed and the peculiar usages are discussed.
Verse Recitation: Students recite and memorize different verses.
Local and Field Trips: Students visit Sanskrit institutions and other traditional sites.
Some outdoor activities: Students gather information about Sanskrit institutions by speaking with them in Sanskrit and submit the report. A language camp may also be arranged
Advanced Reading Course in Sanskrit
Eligibility - Minimum three years of Sanskrit study.
Duration - one semester (Fall or Spring) from the academic year.
The Aim of this reading course is to make students familiar with various advanced and classical texts in Sanskrit, and the traditional method of analysis and textual criticism presented in these texts. The texts vary in range and nature from poetry to poetics and from veda and vedāṅga literature to philosophical literature such as sāṅkhya, nyāya, mῑmāṁsā, vedānta, tantra etc. and also commentarial literature.
A screening test may be executed to know students proficiency.
The teaching will be for three hours (9 a.m. to 12 .15 p.m.) from Monday to Friday, while one hour will be kept for discussion and writing. This class will be devoted to reinforce the content and the arguments made in the texts read earlier. This particular method is a traditional way of reinforcement which is called as anuvāda.
The medium of instruction will be Sanskrit.
Initially a dialogue and discussion class may be taken for making students familiar and comfortable in speaking which would be required for the rest of the course.
The last class may be converted into a dialogue and discussion class for first couple of weeks.
Special guest speakers may be invited to speak on a particular branch.
Tests will be arranged periodically to evaluate students understanding and progress.
There will be different texts and schools chosen for the reading course every couple of years, and will be uploaded on the website.
The texts for the reading course are:
Weeks 1 - 5:
9 a.m. to 10.30 a.m.
nāṭyaśāstra 1st, 18th , 19th chapters
10.45 a.m. to 12.15 p.m.
śākuntalam (firts act) referring rāghavabhaṭṭa commentary
Weeks 6 - 10:
9 a.m. to 10.30 a.m.
sāṅkhyakārikā with sāṅkhyatattvakaumudῑ
10.45 a.m. to 12.15 p.m.
vyākaraṇa-mahābhāṣya – paspaśāhnika.
Weeks 11 - 15:
9 a.m. to 10.30 a.m.
chāndogya -upaniṣad - 6th adhyāya with śāṅkarabhāṣya
10.45 a.m. to 12.15 p.m.
ῑśvara-pratyabhijñāvimarśiṇῑ - āgamādhikāra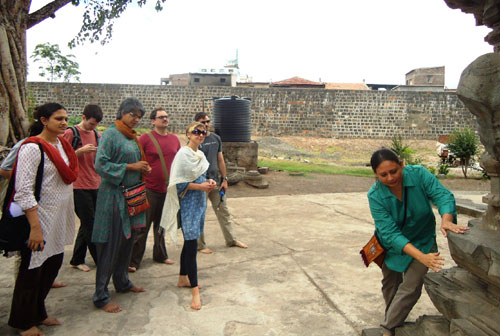 Sanskrit students at a field trip
Sanskrit students reading an inscription
American Institute of Indian Studies
Language Programs at Pune Center
(For Sanskrit, Marathi, Prakrit, Sindhi and Konkani languages)
Studentís Expenditure Information
| | | |
| --- | --- | --- |
| Item | In Rupees | In Dollars, One USD = Rs. 68 |
| Host family rent (Including AC, breakfast, dinner, and meals on holidays) | 20,000- 25,000/- per month, per person | 300 -367 per month, per person |
| Host family rent (Including Non AC but with cooler, breakfast , dinner, and meals on holidays | 15,000 - 18,000/- per month, per person | 250 - 300 per month, per person |
| Apartment Rent - (per room - independent bedroom,) living room and kitchen common, ( Including sweeping, moping, cleaning the bathrooms, cleaning kitchen utensils ) but it doesn't include breakfast, dinner, and meals | 20,000- 25,000/- per month, per person | 300 -367 per month, per person |
| Host family rent payment mode | Cash Payment | Cash Payment |
| Laundry Charges Per cloth (simple Washing & Ironing) | Rs.25/- | |
| Conveyance to & fro from LP Center (average) | Rs.300/- | 5 |
| Internet (for buying a data card (Tata Photon/Reliance/Idea) | Rs.2300/- | 38 |
| Lunch Rate at program house (Monday-Friday) | Rs.500/- | 8 |
| Gym Charges and membership fees | Rs.500/- | 8 |
| Gym membership fees | Rs.2500-3000/- | 41 - 50 |
| International Courier Charges (for 100 gms weight) | Rs.1800/- | 30 |
| Entertainment (ticket charges at Film Theatre) | Rs.180/- | 3 |
| Mobile set including SIM Card (Basic model) | Rs.1320/- | 22 |
| Doctor Consultation Fees (if you go to hospital) (if doctors visits your home) | Rs.350/- to 1500/- | 6 - 25 |
| Music classes like Katthak, singing, harmonium, sitar learning etc (Per hour charges) | Rs.600/- | 10 |
| ISD Calling USA/ Per minute | Rs.2-10/- | |
HOUSING INFORMATION
AIIS assists students in finding local accommodation. Please note that AIIS Pune Language Center is far from the main city area, therefore the distance from the home/apartment can vary from 10-15 kms, one way. Depending on the size of the Program and the availability of suitable accommodations, students are sometimes housed in furnished apartments, but more commonly live in "paying guest" or "home-stay" arrangements in private homes, preferably with families who speak the target language (Not appicable for Sanskrit, Pali and Prakrit). Detailed guidelines will also be sent to students once they are accepted into an AIIS Program.