Marathi and its importance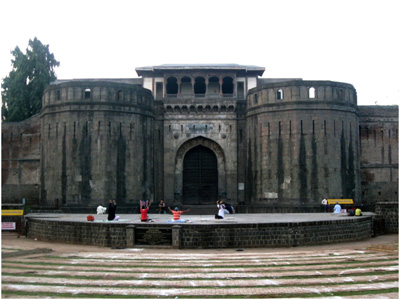 Marathi a New Indo-Aryan language is the primary language of Maharashtra, the third largest state of India. Marathi is the fourth dominant language after Hindi, Telugu and Bangla. Marathi ranks 19th in the list of most spoken languages in the world. According to the 2001 census, there are 96 million speakers of Marathi.
The Marathi language is a descendant of Maharashtri Prakrit descended from Sanskrit. It has a long and sacred tradition, though it is difficult to date the earliest scriptures. It is said that the first inscription in Marathi dated AD 983 is at Shravanbelgol in Karnataka. Mukundaraja 'Viveksindhu', Mahimbhatta's 'Leelacharitra' and Saint Dnyaneshwar's 'Bhavartha Deepika' (Dnyaneshwari) were the early texts in Marathi. Since then a gigantic flow of outstanding literature is throbbing in the hearts of people. Marathi language is enriched by the writings of profound philosophers and saint poets such as Dnyaneshwar, Naamdev, Eknath, Tukaram, Ramdas, Bahenabai, etc. social reformers and thinkers such as Mahatma Phule, Agarkar, Tilak, Ketkar, Ranade, Savarkar, Babasaheb Ambedkar etc. Marathi literature is found abundant in all forms of stories, novels, biographies, essays, dramas, history, poetry, saint literature, folk-literature, dictionaries, science, magazines, newspapers, etc. From colonial period, Marathi theatre is considered as a unique attribute of Marathi culture. Presently, Marathi is considered as the only language in which a literary event called Akhil Bharatiya Marathi Sahitya Sammelan (All-India Marathi Literature Meet) is held every year at various locations around the globe.
Location
Pune is a city located in the western Indian state of Maharashtra. With a population of 3.5 million, it is the ninth-most populous city in India and second largest city in the state of Maharashtra. It is located roughly 120 kilometers east of Mumbai at an altitude of 560 meters above sea level. It is situated at the eastern edge of the Western ghats on the Deccan plateau.
Pune was once the centre of power of the Maratha Empire established by Shivaji Maharaj. In the 18th century, Pune became the political centre of the Indian subcontinent, as the seat of Peshwas who were the prime ministers of the Maratha Empire were based here. Pune is widely considered the cultural capital of Maharashtra. Pune has a reputation for its several esteemed colleges and educational institutions-- the reason why it is called the Oxford of the East (or 'Oxford of India'). It has a very strong presence in the automobile sector and is on its way to consolidate its position as the 'Detroit of India' too. Once referred as a 'Pensioners paradise' it is now home to many software and IT companies.
The Program
The syllabus is designed according to the students' proficiency level. The medium of instruction for all classes is Marathi.
| | 9-10 | 10-11 | 11.00 - 11.15 | 11.15 - 12.15 | 12.15 - 1.15 | | |
| --- | --- | --- | --- | --- | --- | --- | --- |
| Monday | Grammar Review | Literary Reading | | PT | Writing - Composition | | Journal Error Correction |
| Tuesday | Grammar Review | Oral Presentation - Narration | Tea | Listening - Audio / Film preparation | Magazine Reading | Lunch | Zero hour |
| Wednesday | PT | Newspaper Reading | Break | Film Viewing/ Vocabulary Review | Film Viewing/ Language Games | Break | |
| Thursday | Grammar Drills | Monolingual guest / Guest Lecture/ Local trip preparation | | Listening - Video / Film Review | Writing - Translation/ Dictation | | Local Trip |
| Friday | Oral Presentation - Situational Conversation | Monolingual guest / Guest Lecture | | PT | Weekly Test | Student - Teacher meeting, next week preparation | Local Trip |
Advanced Reading Course in Marathi
The aim of this reading course is to help the students to read the texts in their related field of interest.
Eligibility – minimum one year of Marathi study.
Duration - one semester (Fall or Spring)
A screening test will be conducted to understand students' proficiency.
The classes will be conducted for three hours daily from Monday to Friday. (Two hours for reading classes and one hour for discussion and writing.)
Grammar review classes will be conducted for the first two weeks.
Special guest speakers will be invited to speak on the particular topic of interest.
The students should mention in the application the name and details of the text to be read.
Texts which can be chosen:
Texts related to various disciplines such as Religion, History, Anthropology, Archaeology, Literature, Philosophy, Sociology, Politics, Education, Music etc.
Old Marathi religious texts such as Dnyaneshwari, Bhavartha Ramayan, Daasbodh, Leelacharitra etc.
Historical correspondence, documents, (which are available in book form), history written in literature form (Bakhar)
19th and 20th century texts (articles and essays written by various social reformers, leaders, thinkers and philosophers such as Lokmanya Tilak, Agarkar, Mahatma Phule, Dr. Ketkar, Rajwade, Dr. Ambedkar etc.
Modern Marathi Literature – Novels, poems, articles written by well known writers, poets.
Folk literature such as lavani, povada, bharud etc.
Dalit literature.
Literature in various vernacular forms.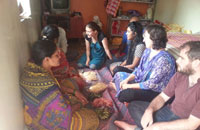 Students talking with women's' self help group
Trying hand at grafting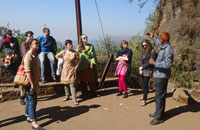 Listening to Guide at Panhala fort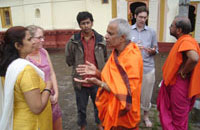 Interaction with priests at Sajjangad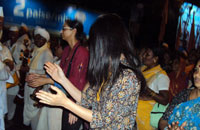 Dancing with the Varkaris in Vari
At vegetable and fruit market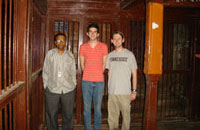 In the house of Saint Tukaram with noted scholar and St.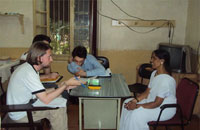 Interaction with Monolingual guest
Local trip
HOUSING INFORMATION
AIIS assists students in finding local accommodation within a reasonable commuting distance of the Language Program center. Depending on the size of the Program and the availability of suitable accommodations, students are sometimes housed in furnished apartments, but more commonly live in "paying guest" or "home-stay" arrangements in private homes, preferably with families who speak the target language. Detailed guidelines will also be sent to students once they are accepted into an AIIS Program.
American Institute of Indian Studies
Marathi Language Program Center → Pune
Student's Expenditure Information
| | | |
| --- | --- | --- |
| Item | In Rupees | In Dollars, One USD = Rs. 70 |
| Host family rent per month (Including AC, breakfast, dinner, and meals on holidays) | 18,000- 22,000/- | 300 -367 |
| Host family rent per month (Including Non AC but with cooler, breakfast , dinner, and meals on holidays | 15,000 - 18,000/- | 250 - 300 |
| Apartment Rent per month - (per room - independent bedroom,) living room and kitchen common, ( Including sweeping, moping, cleaning the bathrooms, cleaning kitchen utensils ) but it doesn't include breakfast, dinner, and meals | 18,000- 22,000/- | 300 -367 |
| Host family rent payment mode | Cash Payment | Cash Payment |
| Laundry Charges Per cloth (simple Washing & Ironing) | Rs.25/- | |
| Conveyance to & fro from LP Center (average) | Rs.300/- | 5 |
| Internet (for buying a data card (Tata Photon/Reliance/Idea) | Rs.2300/- | 38 |
| Lunch Rate at program house (Monday-Friday) | Rs.500/- | 8 |
| Gym Charges and membership fees | Rs.500/- | 8 |
| Gym membership fees | Rs.2500-3000/- | 41 - 50 |
| International Courier Charges (for 100 gms weight) | Rs.1800/- | 30 |
| Entertainment (ticket charges at Film Theatre) | Rs.180/- | 3 |
| Mobile set including SIM Card (Basic model) | Rs.1320/- | 22 |
| Doctor Consultation Fees (if you go to hospital) (if doctors visits your home) | Rs.350/- to 1500/- | 6 - 25 |
| Music classes like Katthak, singing, harmonium, sitar learning etc (Per hour charges) | Rs.600/- | 10 |
| ISD Calling USA/ Per minute | Rs.2-10/- | |
Marathi Learning Resources
Dear AIIS Marathi/Sanskrit Participants,
Greetings from AIIS-Pune and heartiest congratulations for joining in AIIS Language Family.
Mr. Anil Inamdar or Mr.Shantaram will meet you at the Pune airport/Pune Railway station/Pune Bus Stand, as per arrival details communicated by you.
Please note the address of the Hotel wherein; initial stay (on twin sharing basis) of all participants has been arranged for the one night on your arrival, as per institute rules (Check Inn 12:00 Check Out 10.00 a.m, with breakfast arrangement).
Lunch/Dinner, Laundry, Personal Phone Calls etc. needs to be paid by you directly to PYC.
As per the schedule there will be an Orientation in A-2 Conference Hall (Third Floor) of the same Hotel at sharp 09.00 a.m.. You can have the breakfast, leave your room and bring the luggage to the Conference Hall, by 9.00 a.m.
PYC Hindu Gymkhana & Sports Foundation
766 Bhandarkar Road, Opp. to Girikand Travels
Next to Good Luck Chowk, Pune - 411 004
Phone No. 020-25664747/020-25664949

The institute has arranged an accommodation (on twin sharing basis) in the PYC Hindu Gymkhana, for those students who would be arriving early in Pune. The participants shall pay directly to PYC.
After Orientation as per schedule, there will be a lunch arranged by the Institute for all the students, teachers of AIIS, invited speakers and host families (between 12:30 to 2:00 pm) and the students shall be moved to the host families/flat/apartments (between 2:00 p.m. to 4:00 p.m.).
Please contact Ms.Meenal Kulkarni (Sanskrit Teacher and Host family Co-ordinator) on her email id (Sanskritlp@aiis.org.in, mamee7@gmail.com and Cell No. 9373301746) in case you have not contacted earlier for your housing requirement.
Mumbai to Pune:
A good option for getting to Pune from Mumbai International Airport is KK Travels. They operate a limousine (well, a large car) shuttle service between drop-off points in Pune and the domestic and international terminals in Mumbai. The cars run 24/7, and you can book them via e-mail. One seat (with luggage in back) costs around Rs. 900, and they will drop you off anywhere in Pune. Cars are clean, drivers are courteous, and they put your name on a signboard and wait for you. They stop at one rest area along the Mumbai-Pune expressway for bathroom, etc. Many AIIS scholar use this company regularly. (They are equally good for transport in the other direction. They know exactly how long the drive will take in order to get you to the terminal at the proper time. Those student who want to come from Mumbai to Pune by road can contact M/s KK Travels on Mobile No. 9371099797, 9370599797, 9011979797, 9860100100, 9822979797, 9527507979 and email ID mumbai@kktravels.com, kktravels@kktravels.com or they write to aiispune@aiis.org.in giving requirement such as pick up time/date/address to enable us to arrange a reliable car service. If any participant want to stay in Mumbai they may contact following hotels.
HOTEL AIRPORT INTERNATIONAL
Nehru Road, Ville Parle (East),
Mumbai - 400 099. INDIA
Phone: ( 91-22 ) 26182222
Fax : ( 91-22 ) 26183333
E-mail : reservations@hotelairportinternational.com
Website - www. hotelairportinternational.com
Hotel Transit
Near Domestic Airport, Vile Parle (East)
Mumbai – 400099.
Maharashtra. INDIA.
Tel: +91 22 26128882, 66930761-3
Fax: +91 22 26105785
E-mail:reservation@hoteltransit.in, transit1@vsnl.com
Website: www.hoteltransit.in
Please arrange to send scan version copies of Passport and Visa by email. You will have to submit 6 passport size colour photographs.
Your Form C (duly signed by you and your host family) will be submitted to Dy. Commissioner of Police, FRO Special Branch, Next to GPO, Pune 411001 within 24 hours of moving into the flat. The Registration with FRO needs to be done (except PIO, OCI card holders or students having Indian Nationality) within 14 days of your arrival in Pune. A Certificate of Verification of Residence from the concerned Police Station, will be obtained for you, which is required for registration purpose. Each one of you will be provided with a Bonafide Certificate by putting UID number (which is generated online).
AIIS will help you to fill your ONLINE Student Visa Registration Form by uploading necessary documents. You may refer website punepolice.gov.in/fro to check list of documents and online forms filling instructions. The Admin. Officer will accompany you to FRO for registration purpose.
Please note the AIIS Officers' contact details:
| | | | |
| --- | --- | --- | --- |
| Mr. Anil Inamdar | Administrative Officer | aiispune@aiis.org.in | Cell No. 8308195791 |
| Ms. Madhura Godbole | Head-Sanskrit Language Program | sanskritlp@aiis.org.in, | Cell No. 09373301748 |
| Dr. Sujata Mahajan | Incharge-Marathi Language Program | marathilp@aiis.org.in | Cell No. 9011103732, 8805427764 |
| Dr. Ahtesham Khan | Coordinator (Programs) | languageprograms@aiis.org.in | Phone No. 0124-2381424 |
| Ms.Purnima Mehta | DirectorGeneral | aiisdelhi@aiis.org.in | Phone No. (011)-2462 5386,24698930 |
I hope the above information will meet your requirement. Please get in touch with us in case you need more information. Looking forward to meeting you. With good wishes, AIIS Pune-Team
American Institute of Indian Studies
Deccan College Campus, S.No. 24 Yervada, Opp. Deccan College Ground, Pune - 411 006
Phone No. 020-26682932/26695531/020-65004911
Email ID - aiispune@aiis.org.in Website - aiislanguageprograms.org
Cell No. 8308195791
For students interested in taking Modi script classes -
Basic Modi script:
Eligibility - 1 year of formal Marathi training / 1 Marathi Summer Program at AIIS.
Advanced Modi script:
If a student wants to read actual handwritten historic documents in Modi, the student needs to have at least 3 years of formal Marathi training / 2 AIIS Marathi Summer Programs / 1 AIIS Marathi Summer and/or 1 Academic Year or if he/she has learnt Modi with us earlier.
Students should clearly mention in their application that they desire to take the Basic or Advanced course in Modi script. The AIIS faculty is equipped to teach Basic Modi to qualified students. For Advanced Modi, we need to bring in a local expert as an adjunct instructor.